20kv iec standaard high voltage power kabel single core power kabel 300mm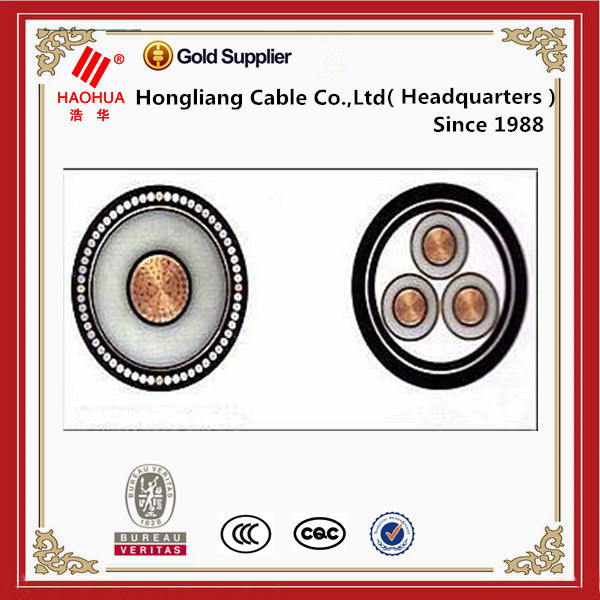 | | |
| --- | --- |
| Haven: | Tianjin |
| Betalingsvoorwaarden: | L/C,T/T |
| Leveringscapaciteit: | 80000 Meter/meter per Day voor 20kv iec voltage power kabel single core power kabel 300mm |
| plaats van herkomst: | Shandong china |
| naam van het merk: | hua hao |
| modelnummer: | yjv |
| isolatiemateriaal: | XLPE |
| type: | Medium Voltage |
| toepassing: | Bouw |
| leidingmateriaal: | Aluminium |
| jas: | PVC |
| product: | 20kv iec voltage power kabel single core power kabel 300mm |
| standaard: | Iec 60502, bs 6622, gb/t12706, nfc |
| certificaten: | cqc |
| scala van de nominale doorsnede: | 25 mm2 ~ 630 mm2 |
| type: | Yjv, yjlv, cu of al/xlpe/cts of cws/pvc |
| kernen: | 1c en 3c |
| metalen scherm: | koper tape of koperdraad |
| Brandvertraging, brandwerendheid,: | iec voedingskabel spanning optioneel voor single core power kabel 300mm |
| Details levering: | Binnen 6 ~ 15 werkdagen |
| Details verpakking: | Staal/houten trommel voor 20kv iec standaard high voltage power kabel single core power kabel 300 mm of als je per eis |
20kv iec standaard high voltage power kabel single core power kabel 300mm
toepassing
Dit product is geschikt voor hoge spanning 66kv-220kv, extra- hoge- spanning transmissie en distributie lijn. Mechanische eigenschappen en elektrische eigenschappen overeenstemming met
Iec60840 iec62067 en standaard, en gb/t11017-2002, gb/z18890-2002, gb/t22078-2008.
kabel structuur
parameters technicals voor 20kv iec standaard high voltage power kabel single core power kabel 300mm
type

Yjv32, yjlv32, cu of al/xlpe/cts of cws/pvc/swa/pvc

spanning

1.8/3kv, 1.9/3.3kv,6/10kv, 6.35/11kv, 8.7/10kv, 8.7/15kv, 12/20kv, 12.7/22kv, 18/30kv, 19/33kv,26/35kv

kernen

1c en 3c

scala van de nominale doorsnede

25 mm2~630 mm2

toepassing

Het product is geschikt voor gebruik in elektrische transmissie en distributie lijnen met nominale vermogen frequentie spanning 3.6/6kv~26/35kv.Voor het leggen van binnen, in tunnel, kabelsleuf, goed of rechtstreeks in de grond, in staat om externe mechanische krachten dragen, en bepaalde kracht.

standaard

Iec 60502, bs 6622, gb/t12706

constructies

Dirigent:

koper of aluminium verdichte

Isolatie:

xlpe

Metalen scherm:

koper tape of koperdraad

Armor:

swa( opmerking: voor single core het pantser moet awa of sswa)

Schede:

Pvc, pe of lszh

Max.. Bedrijfstemperatuur

90& #8451;

verpakking

stalen vat of als per eis

productiecapaciteit

10 kilometer/day

moq

500~1000 meter voor 6.35/11kv kabel, 500 meter voor andere spanning

levertijd

10~15 werkdagen

opmerking

De kabel kan worden van brandvertraging, brandwerendheid, milieuvriendelijke of andere eigendommen
certificaten en kwaliteitscontrole voor 20kv iec standaard high voltage power kabel single core power kabel 300mm
bedrijfsinformatie
over ons
Hongliang kabel co., ltd.
Gevestigde jaar: 1988
Maatschappelijk kapitaal van rmb: 201,800,000
De totale activa: 28,7 miljoen
Fabriek gebied: 45425 mm2
Productie capaciteit per jaar: 250000km
Aantal werknemers: 460
verpakking en verzending
verpakking enverzendkosten voor 20kv iec standaard high voltage power kabel single core power kabel 300mm
Kabel moet worden geleverd in stalen vat. Kabel stuk lengte moet van 500 meter lengte of zoals gespecificeerd
Door de klant op het moment van de bestelling.
20-30 werkdagen of met betrekking tot de kopers verzoek.
Vele manieren transporten op uw optie.
faq
1. die betalingsvoorwaarden accepteert u?
A) 30 % storting in advince, banlance tegen het exemplaar van b/l.
B) 100 % l/c bij gezicht.
2. wat is uw moq?
Wordt u geadviseerd om gelieve te bevestigen met ons op als het& rsquo; s op basis van verschillende kabels.
Meestal& rsquo; s 100 meter voor middenspanning kabels.
3. wat dacht je van je levertijd?
Volgens de volgorde& rsquo; s hoeveelheid. Meestal 15 tot 30 werkdagen.
4. hoe om het verpakken van de goederen?
Meestal in houten vaten of staal houten trommel. De kabel wordt meestal opgerolde draad.
5. hoe te kopen voedingskabel als het type is onbekend
Kunt u mij zeggen de toepassing, wij zullen u helpen vinden van de meest geschikte type.
6. de garantie
overzeese technische service center beschikbaar 24 hous
Hartelijk dank voor uw lezing, als het even welke vragen gelieve te voelen vrij om me te contacteren.
Skype: hongliangcablesales5
klik om onderzoek nu
Tags:
high voltage power cable
,
IEC standard
,
single core
Contact us