12/20kV Aluminium Geleider 3 Core 240mm2 Stroomkabel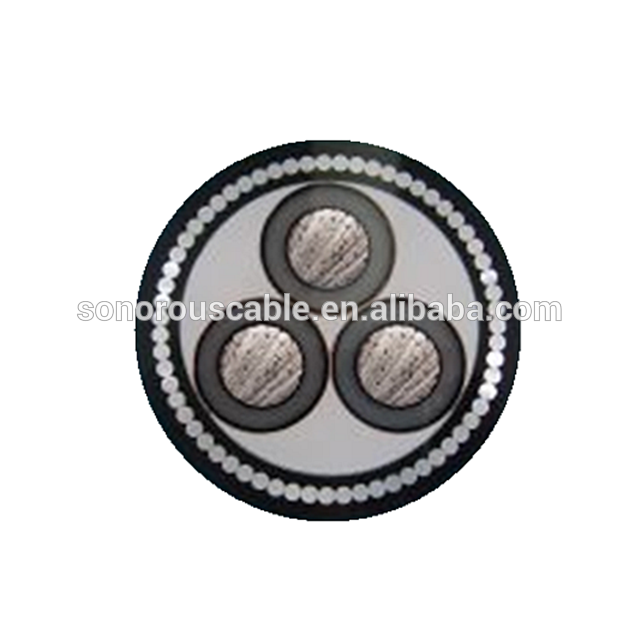 | | |
| --- | --- |
| Haven: | Tianjin |
| Betalingsvoorwaarden: | L/C,T/T,Western Union |
| Leveringscapaciteit: | 5000 Kilometer/kilometers per Month 240mm2 voedingskabel |
| plaats van herkomst: | Hebei china |
| naam van het merk: | HAOHUA |
| modelnummer: | Al/XLPE/PVC stroomkabel |
| isolatiemateriaal: | XLPE |
| type: | Medium Voltage |
| toepassing: | Bouw |
| leidingmateriaal: | Aluminium |
| jas: | PVC |
| 240mm2 power kabel Schede: | PVC, PE of LSZH |
| 240mm2 power kabel Amour: | SWA |
| 240mm2 stroomkabel Standaard: | IEC 60502, BS 6622, GB/T12706 |
| 240mm2 power kabel kleur: | zwart, rode of als uw verzoek |
| bedrijf natuur: | Manufactury voor 240mm2 stroomkabel |
| Details levering: | verzonden in 24 dagen na betaling |
| Details verpakking: | Verpakt in houten vaten, stalen vat of als per eis voor 20 kv aluminium geleider stroomkabel 3 kern 240mm2 |
12/20kV Aluminium Geleider 3 Core 240mm2 Stroomkabel
Beschrijving
structuur van Aluminium Geleider 3 Core 240mm2 Stroomkabel
1. Circular Gestrand Aluminium Geleider, cl.2 als per IEC60228
2. Semi dirigent Screen
3. XLPE Isolatie (met kleur tape)
4. Semi dirigent Screen
5. Koper Tape Scherm
6. Vulstoffen
7. PP Wrapping Tape
8. Overall PVC Schede
beschrijving van Aluminium Geleider 3 Core 240mm2 Stroomkabel
| | |
| --- | --- |
| Type | YJV, YJLV, Cu of Al/XLPE/CTS of CWS/PVC |
| Voltage | 1.8/3kV, 1.9/3.3kV, 6/10kV, 6.35/11kV, 8.7/10kV, 8.7/15kV, 12/20kV, 12.7/22kV, 18/30kV, 19/33kV, 26/35kV |
| Cores | 1C en 3C |
| bereik van Nominale doorsnede | 25mm2-630mm2 |
| toepassing | 20kV Aluminium Geleider 3 Core 240mm2 Voedingskabel is geschikt voor gebruik in power transmissie en distributie lijnen met nominale power frequentie spanning 3.6/6kV ~ 26/35kV. voor leggen binnenshuis, in tunnel of kabel geul, niet beer externe mechanische krachten. Single-core kabel in magnetische duct is niet toelaatbare. |
foto van Aluminium Geleider 3 Core 240mm2 Stroomkabel
als u niet de product u in de lijst, aarzel contact me!
bedrijf Informatie
belangrijkste producten:
Power Kabel, elektrische draad kabel, Hieronder 35kV spanningen XLPE geïsoleerde kabels, gepantserde kabels, controle kabels, Rubber kabels, PVC geïsoleerde draden en kabels, BV draad, Huis draad;blote gestrande geleiders (AAC, ACSR, AAAC, ACAR);etc.
verpakking & Verzending
verpakking: Aluminium Geleider 3 Core 240mm2 Power Kabel moet geleverd in staal drum. kabel stuk lengte moet van 500 meter lengte of als opgegeven door de klant op tijd van bestelling.
verzending: 20-30 werkdagen of als de kopers verzoek
over de leverancier
Wendy Jiang (Sales Ingenieur)
SKYPE:hongliangcablesales3
TEL:008618253153062
WELKOM OM ONDERZOEK!!
stuur Uw Aanvraag Gegevens in de Hieronder voor Gratis Monster, klik " Sturen " nu!
Tags:
240mm2 power cable
,
3 core power cable
,
aluminum cable
Contact us